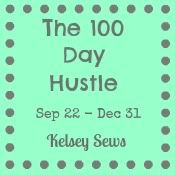 There's been quite a bit of upheaval and change in my life in the last few weeks, so I'm not as far along with this as I'd hoped! Still, here goes for the 50 day link up:
1) design & make a cd holder using the Melody Miller records fabric -
ha, great start, no progress
2) Make double-sided quilt for niece Megan -
finished, loved and delivered to Megan, only 5 days late!
3) use the brown batik Charlotte challenged me with - 2 projects in mind for this.
I used the tote bag we got goodies in at Retreat and made the batik into a tree trunk. The leaves are Innocent Crush. Project two still on the back burner.
4) Make an Amy Butler weekender bag using 'Newquay' fabric
ermmmmm...... I still want to do this, but probably now a QAYG version if I can pluck up the courage! Will merge with item 15!
5) make the Christmas wonky log cabin into a mini quilt
ermmmm....
6) finish the double circle flying geese cushion cover from FQ Retreat
will NOT be doing this - have had several attempts, getting it all out, reading the instructions, and I can't get my head round it, so this one will be scrapped...
7) make mug tree / Christmas cards
planned for next weekend
8) make 3 thank-you popsicle mug rugs
another ermmmm....
9) finish campers travel sewing kit
good grief, this is getting repetitive!!
10) make 2 x hopscotch quilts with jelly rolls
guess what....
11) finish Maison de Garance quilt for Christmas gift
next priority - the top's done, the backing's ready, just need to save enough pennies to buy the wadding and then get it quilted and bound.
12) make 4 x Oh Fransson! bags for Christmas gifts
3 made, but now had other ideas for these recipients, so will change this to 'make 4 Christmas gifts' - youngest is getting one of these pouches, the others are having other things.
13) make a notebook cover for Christmas gift
well, I've got the fabric and the notebook, just need to get the two together!
14) make a duvet cover for the spare bedroom out of IKEA fabric
yes, well this was just daft thinking I'd get this done before Christmas!
15) make a QAYG version of Weekender bag using Tula Pink fabric.
see item 4.....
16) various bee commitments
sadly, because of the aforementioned upheavals and changes, I've had to drop out of the bee.
I've has no real sewing time since the middle of last month, so I just couldn't guarantee I could honour these commitments.
17) edited to add: finish raw circles quilt!!!
Yay!! All done, hand quilted and bound and just gorgeous. Currently over the back of the sofa where the feline in residence is also in love with it and spends most evenings asleep on it!
So, four out of 17, with two scrapped and two becoming one - not the best first 50 days eh? Better get stuck in over the next 40 or so.....