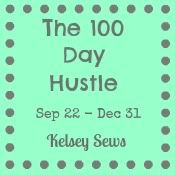 Doesn't sound as good as the 100 Day Hustle though, does it?! Kelby Sews launched this linky thingy to get us all working on our unfinished projects or starting new planned projects before the end of 2012.
Anyway, I wrote myself out a to-do list, and I've already lost one of those 100 days, so here goes....
1) design & make a cd holder using the Melody Miller records fabric
2) Make double-sided quilt for niece Megan
3) use the brown batik Charlotte challenged me with - 2 projects in mind for this.
4) Make an Amy Butler weekender bag using 'Newquay' fabric
5) make the Christmas wonky log cabin into a mini quilt
6) finish the double circle flying geese cushion cover from FQ Retreat
7) make mug tree / Christmas cards
8) make 3 thank-you popsicle mug rugs
9) finish campers travel sewing kit
10) make 2 x hopscotch quilts with jelly rolls
11) finish Maison de Garance quilt for Christmas gift
12) make make 4 x Oh Fransson! bags for Christmas gifts
13) make a notebook cover for Christmas gift
14) make a duvet cover for the spare bedroom out of IKEA fabric
15) make a QAYG version of Weekender bag using Tula Pink fabric.
16) various bee commitments
17) edited to add: finish raw circles quilt!!!
So......... not much to achieve then! Clearly it's no good sitting her rabbiting on to you lot, best get cracking!