It's been a busy day today. I think working with Melody Miller's Ruby Star Vinyl recently has gone a bit to my head, because when I started cutting fabric for my niece's 3rd birthday quilt today, in my wisdom I decided it would be a double-A side
Megan, the niece in question, is responsible for my beginning in quilting. I'd done lots of knitting over the 3 or 4 years before her arrival - and it was her brother Dylan's arrival that started that off. For Megan's birth, I made a playmat, using a cheater panel and yardage from the same range, and I basically made two quilts with high loft polyester wadding and bound them together to make it nice and thick. I didn't take photos. All in all, I've learned a lot since then!!
So as Megan's about to move into a new bedroom with a big girl's bed, I thought I'd like to make her a new, pink quilt.
It has to be pink, it's been requested! I've been collecting fabric for a few months and today decided to cut the pieces ready to sew together while I'm on holiday at the start of next month. I've got loads of Heather Ross, because I loved the fairy tales theme, and also loads of Aneela Hoey, because it's pink! As the two are so different in style, colour etc, I decided I'd do one side in one and the other in the other, and then Megan can decide which side she wants on show.
Heather Ross layout
It was to be improvised, no pattern, just cut and sew bits together to make the 36" x 52" quilt I wanted.
Only I couldn't do it, I couldn't just chop into the Heather Ross preciousness without a plan. So I spent a while measuring the motif sizes on the various different fabrics - I've got Rapunzel, Sleeping Beauty, Princess and the Pea and the Owl and the Pussycat, along with some lovely roses. With the recent Spoonflower offer of a free fq for the price of postage I bought a princess and the pea panel, which is the centrepiece. I then spent an hour with the PC and a dtp package in the absence of a high-falutin' electronic quilt design package, and drew it all out, working out what filler pieces I needed.
(I took a photo of the pc screen so I could check the layout, as we're not high-tech enough to have a printer at home!)
Once it was all drawn out, I very, very, very carefully cut the pieces out, with only one mistake. I followed the wise advice, of measure twice, cut once.... measured twice, talked about the measurements and then cut it wrong! Luckily it was a fabric I had lots of, so no major drama.... I used some lovely toning peach and gold oakshotts for some small filler pieces I needed and
I've got 2 gaps to be filled with a Snow White.
Lastly, it'll have a pink oakshott border.
Then I started on the other side, and the Aneela Hoey fabrics from Sherbet Pips, Walk in the Woods and a Sew Stichy panel. It's very, very pink! There's an occasional flash of pale blue and a couple of bits of grey, but otherwise it's unrelentingly pink!! I thought the first side was quite a symmetrical pattern so I tried to make the pink side a little more out there. This time, I'd cut the fabric before I did the drawing, so it was a case of fitting in what I had and working out what more I had to cut. Whether it will look anything like this when I'm done is another matter!
Once I'd got both bits done and used the screenshots to check the layout, I broke both sides down into blocks and put them all in separate bags, and once I have picked up the Snow White from Charlotte on Wednesday, I'll be ready to sew it all together.
Once I'd finished those, I got on with yet more hand quilting of spirals, which is flying now I'm on the outside blocks. I'm happy to report I only have 13 more to do! Then I have to choose a binding, but it should be finished by the end of the holiday.
And talking about Charlotte, have you all signed up for the Pervalong?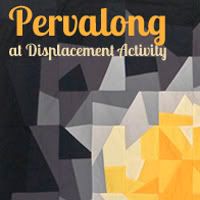 I was bravely resisting as I'm supposed to be on a fabric diet (even more so after yesterday's extortionate vet bill!!) but I was tempted over to The Village Haberdashery today to look at the pre-cut kits that Annie has put together for the project.... Firstly, let me help you a little in case of confusion - Charlotte's quilt, on which this QAL is based, was originally called Fractured, but because of it's colours and a certain line of literature popular this summer, it became known as '50 shades of perv'. Annie has quite properly stuck with the Fractured moniker for her kits! Anyway, I'm waffling....
I was doing so well with the brave resisting, until I saw this little bundle of pink and grey loveliness, and now I'm wavering....
Lastly, I just want to say that although it seems to me like I've had a tough time lately, there's a friend of many of us going through something truly awful with her family at the moment, which really puts things into perspective. I'm sure all of us are thinking of them, and wishing there was anything we could do to ease their pain.